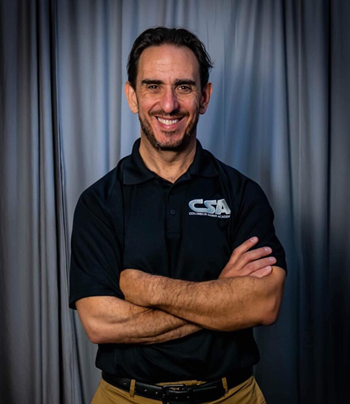 Owner and Head Instructor
After moving to NYC in 1991, Tom started his adult martial training in ITF Taekwondo under Grandmaster Suk Jun Kim, transitioned to training in the Bujinkan under Mark Guest in 1997, and in 1999, Tom layered in the study of classical fencing under Maestro Ramon Martinez at the Martinez Academy.
Tom's fencing and ninpo training continued through his move to Columbus Ohio in 2008, where he also restarted Taekwondo under David Purdue through 2016. In January 2015 Tom founded Columbus Saber Academy – a fencing and martial training academy that empowers personal growth and emphasizes the importance of fundaments, structure, mechanics, tempo, and measure.
Bringing over 32yrs of martial training, Tom teaches weekly classes at CSA in fencing, self-defense, and conditioning. Tom's personal training continues through attendance in workshops, seminars, and tournaments across the country throughout the year.
In addition to running and teaching at CSA, Tom is the Director of Programming for CombatCon – the only global, volunteer-led event that brings together newcomers, enthusiasts, and lifelong professionals to celebrate Western and European Martial Arts, share knowledge across disciplines, and build a more exciting and inclusive community in the process.